GBP/USD: Current Dynamics
05/16/2019
The pound continues to fall. The situation around Brexit has remained the main driver of the pound since mid-2016, when a Brexit referendum was held. At this time, the pound falls on information from the fact that the Prime Minister may lose his post, and his place will be taken by a supporter of tough Brexit.
Theresa May was unable to advance in negotiations with the opposition Labor Party to support the Brexit agreement. And even among the members of her Conservative Party, there are more and more of her opponents.
Having broken through the key support levels of 1.3045 (ЕМА200 on the daily chart), 1.3020 (ЕМА144 on the daily chart), on Thursday the GBP / USD pair has been falling for 9 days in a row and is trading on Thursday at the beginning of the European session, near the 1.2830 mark.
Indicators OsMA and Stochastic on the 4-hour, daily, weekly charts recommend short positions.
A further weakening of the pound will lead to a decline in GBP / USD to support levels of 1.2700 (lows of October and August 2018), 1.2600.
Purchases will be possible only after GBP / USD returns to the zone above the short-term resistance level of 1.2960 (ЕМА200 on the 1-hour chart) with growth targets at resistance levels of 1.3045, 1.3210 (Fibonacci level 23.6% of the correction to the decline of GBP / USD in the wave, started in July 2014 near the level of 1.7200), 1.3370 (March and year highs), 1.3610 (ЕМА200 on the weekly chart).
So far, short positions are preferred.
Support Levels: 1.2800, 1.2778, 1.2700, 1.2660, 1.2600
Resistance Levels: 1.2870, 1.2960, 1.3020, 1.3045, 1.3100, 1.3125, 1.3167, 1.3210
Trading Scenarios
Sell ​​in the market. Stop Loss 1.2880. Take-Profit 1.2800, 1.2778, 1.2700, 1.2660, 1.2600
Buy Stop 1.2880. Stop Loss 1.2820. Take-Profit 1.2960, 1.3020, 1.3045, 1.3100, 1.3125, 1.3167, 1.3210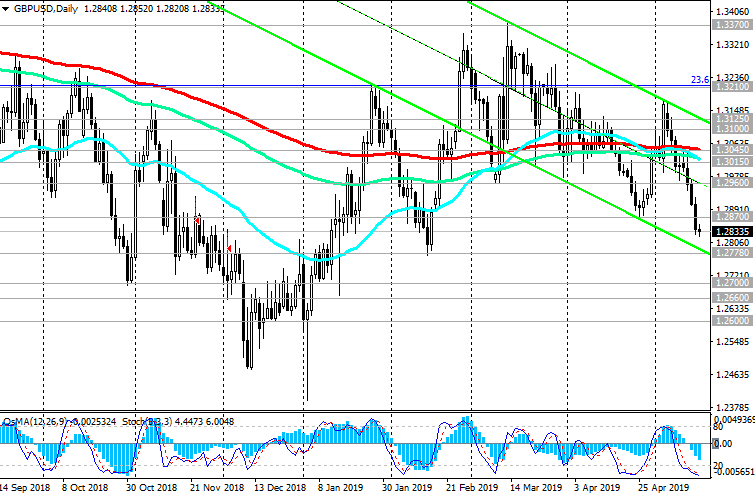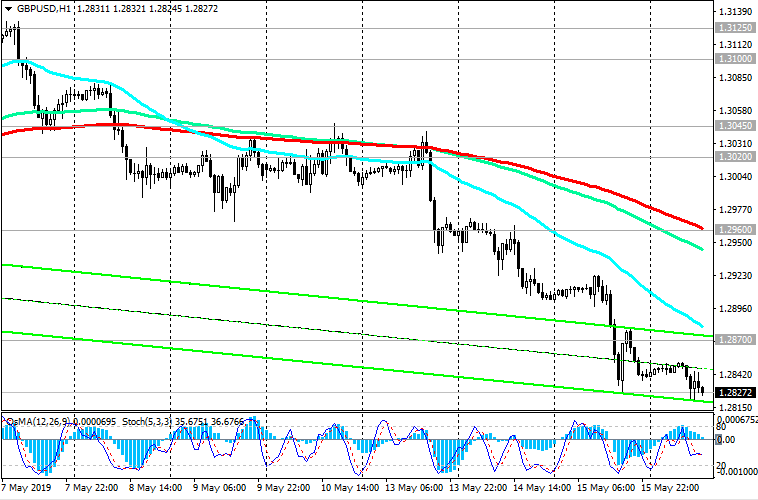 *) For up-to-date and detailed analytics and news on the forex market visit Tifia Forex Broker website tifia.com