USD/CAD: labor market and OPEC+ meeting
09/04/2020
"A hard day expects Canadians on Thursday," said Justin Trudeau, the country's prime minister on Wednesday. At 12:30 (GMT), employment data for March will be released. According to Trudeau, more than 4 million workers have applied for unemployment benefits or cash benefits since mid-March, representing almost 20% of the country's workforce, judging by the latest employment data. The forecast for unemployment in Canada for March: 7.2% (against the preliminary forecast of 5.6% and 5.6% in February), which is likely to negatively affect CAD.
However, the situation on the labor market may be even sadder.
At the end of last month (March 27), the Bank of Canada again unscheduled lowered its key interest rate by 0.50%, bringing it even closer to zero. "Our decision today is aimed at supporting the financial system, which plays a central role in lending to the economy, as well as creating the foundation that will allow the economy to return to normal", the central bank said after the meeting. However, participants in the financial market reacted rather restrained to the decision of the Bank of Canada.
A much greater pressure on CAD quotes is currently being exerted by a sharp decline in oil prices, since the Canadian economy still has raw material features, and a significant part of the country's budget is generated from the export earnings from oil sales.
Therefore, the volatility in CAD quotes is expected to increase sharply after 14:00 (GMT), when the OPEC meeting begins. According to media reports, Russia and Saudi Arabia are inclined to conclude a new deal to reduce production and end the price war, even despite doubts about the US ability to join this agreement.
The expectation of this event contributes to the closure of short positions in the oil market, which may support quotes for commodity currencies, including the Canadian dollar.
USD / CAD maintains positive dynamics, to be traded above key support levels of 1.3452 (Fibonacci level 23.6%), 1.3430 (ЕМА200 on the daily chart). Above the support level of 1.3940 (EMA200 on the 4-hour chart), purchases look safe.
Breakdown of the resistance level of 1.4100 will lead to further growth of USD / CAD.
In an alternative scenario, and after the breakdown of the support level 1.3940 USD / CAD will go to the support levels 1.3452, 1.3430.
However, much of the dynamics of USD / CAD will also depend on the outcome of today's OPEC+ meeting.
Support Levels: 1.3940, 1.3660, 1.3560, 1.3500, 1.3452, 1.3380, 1.3330, 1.3300
Resistance Levels: 1.4100, 1.4272, 1.4350, 1.4600, 1.4665, 1.4700
Trading Scenarios
Sell ​​Stop 1.3930. Stop-Loss 1.4110. Take-Profit 1.3900, 1.3800, 1.3700, 1.3660, 1.3560, 1.3500, 1.3452, 1.3380, 1.3330, 1.3300
Buy Stop 1.4110. Stop-Loss 1.3930. Take-Profit 1.4272, 1.4350, 1.4600, 1.4665, 1.4700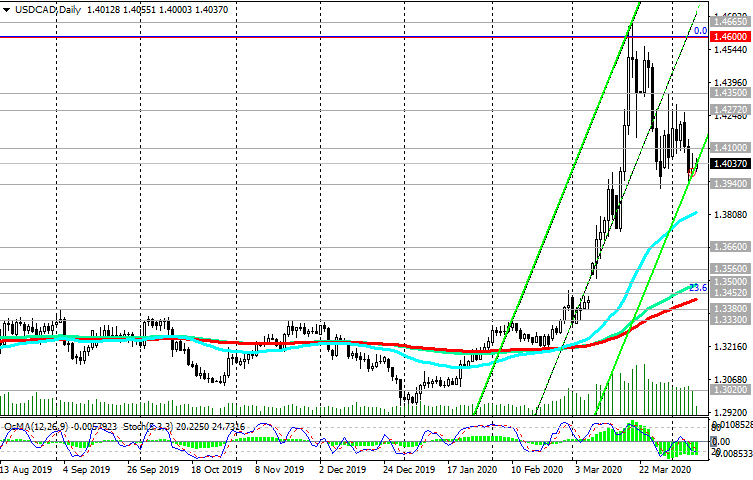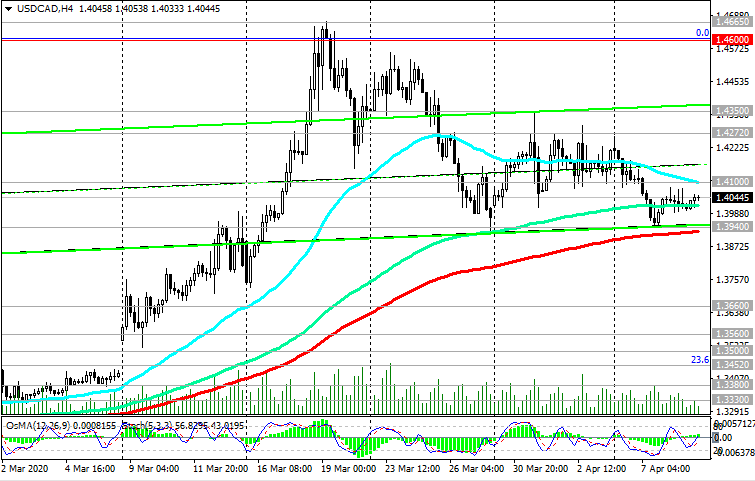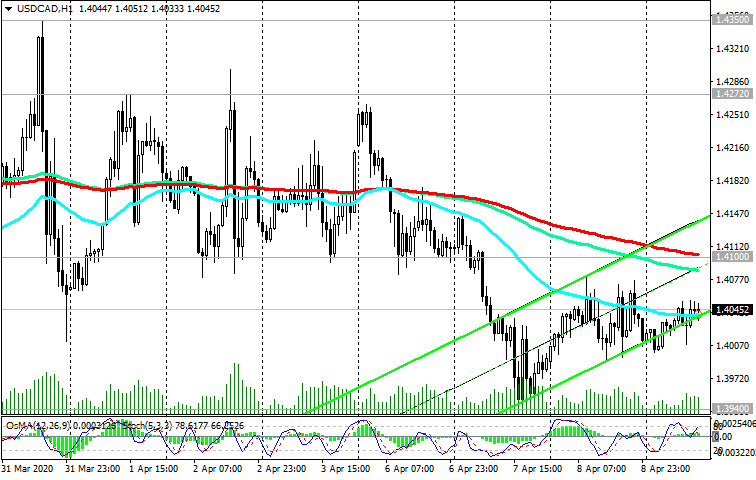 *) For up-to-date and detailed analytics and news on the forex market visit Tifia Forex Broker website tifia.com