S&P 500: fundamental background is negative
23/03/2020
Having completed the past week with the largest losses since October 2008, futures on major US stock indexes began a new trading week on Monday with a gap down about 3%. Investors are under stress amid the coronavirus pandemic and the fall of the global economy.
The Dow Jones Industrial Average, S&P 500 and Nasdaq Composite fell from record highs reached in February by about 30%. At the same time, the Dow Jones Industrial Average, S&P 500 indices returned to levels of more than 3 years ago (November - December 2016).
At the same time, the fall of stock indices occurs against the background of a sharp decline in oil prices, which is caused both by expectations of a sharp drop in world oil consumption due to the coronavirus and fears about a price war between the world's largest oil producing countries.
At the same time, the dollar continues to enjoy strong demand, strengthening its position in the foreign exchange market. The DXY dollar index rose 5% last week, and continues to rise on Monday. At the beginning of today's European session, the DXY dollar index futures were traded near 103.59, 9 points above the closing price last Friday.
Nevertheless, at the reached critical levels, a local bottom may form, and further growth of indices is possible.
This point of view is supported by the technical aspect of our analysis. On the monthly chart, the S&P 500 futures reached a strategic long-term support level at around 2240.0, through which a 200-period moving average passes.
A growth into the zone above the resistance levels of 2520.0 (ЕМА200 on the 1-hour chart), 2600.0 (Fibonacci level 50% of the downward correction to the growth since February 2016 and the level of 1807.0) may be a signal for the beginning of the stock market recovery and further growth of the S&P 500.
At the same time, below the resistance levels of 2319.0 (ЕМА144 on the monthly chart), 2415.0 (Fibonacci level of 61.8%), only short positions should be considered.
The long-term reduction target is located at the support level of 1900.0 (February 2016 lows).
Downward prevailing amid strong negative fundamental background.
Support Levels: 2240.0, 2180.0, 2020.0, 1900.0, 1807.0
Resistance Levels: 2319.0, 2415.0, 2520.0, 2600.0, 2685.0
Trading Recommendations
Sell ​​Stop 2180.0. Stop-Loss 2320.0. Goals 2100.0, 2020.0, 1900.0, 1807.0
Buy Stop 2320.0. Stop-Loss 2180.0. Goals 2415.0, 2520.0, 2600.0, 2685.0, 3020.0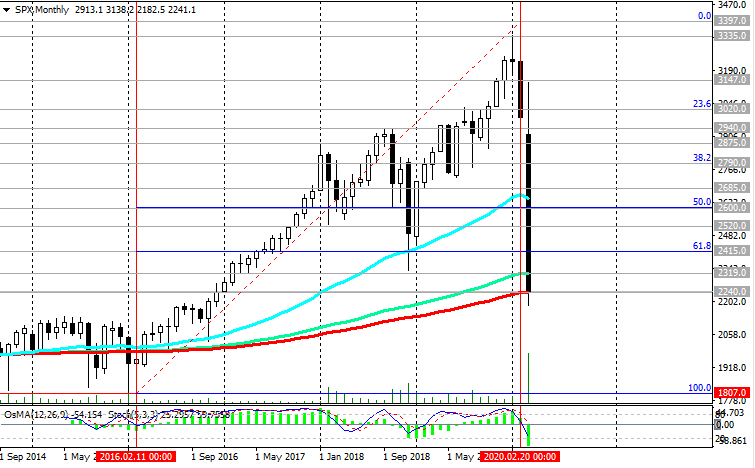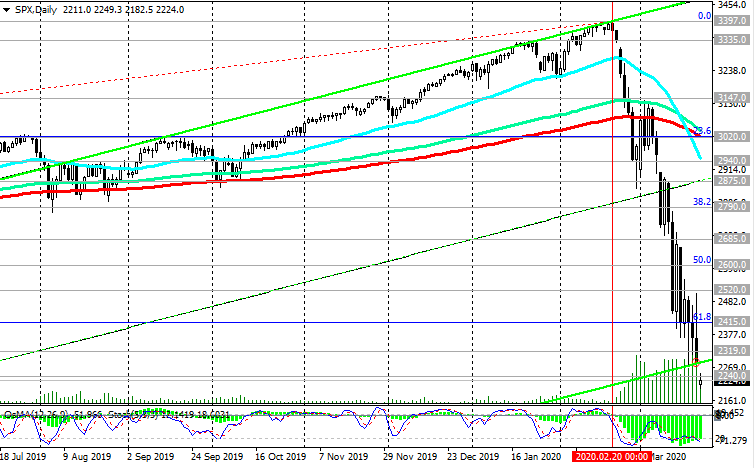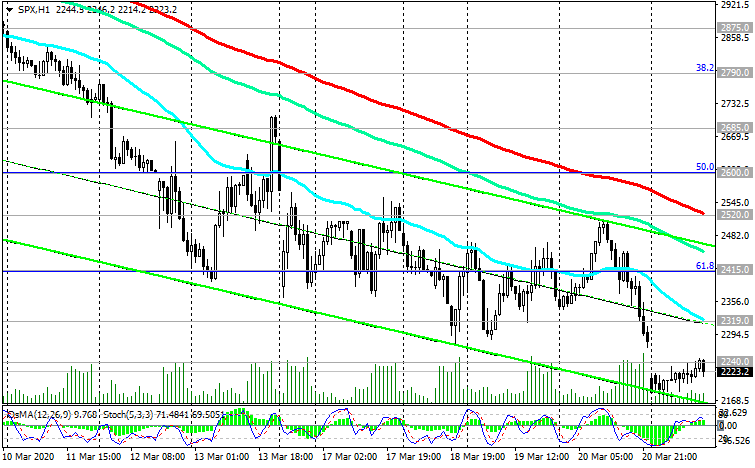 *) For up-to-date and detailed analytics and news on the forex market visit Tifia Forex Broker website tifia.com