S&P 500: negative dynamics may resume
13/04/2020
News from the oil market and the spread of coronavirus continue to affect the dynamics of stock indices. Asian stock indices (in Tokyo, Shanghai and Seoul) fell as a result of today's trading, while the markets of Europe, Australia and Hong Kong were closed due to Easter Monday. Probably, the US stock markets will also begin today's trading with a fall in the indices.
It seems that investors are restrainedly reacting to the agreement reached last week among the largest oil producers to jointly limit oil production.
Last Sunday, a deal to reduce production was still concluded with the support of US President Donald Trump, who helped to resolve the differences between Saudi Arabia and Mexico, which prevented the final agreement.
Under the deal, 23 countries pledged to reduce oil supply by 9.7 million barrels per day.
Countries that are members of the International Energy Agency (IEA) also intend, according to informed sources, to announce purchases of oil to replenish their national reserves, which will help remove some of its excess from the market.
As a result, the agreed measures can reduce the oil supply in the market by 20 million barrels per day, the OPEC draft press release notes.
Nevertheless, investors fear that a reduction in production will not be an effective measure to support oil prices in the coming weeks amid growing cases of coronavirus infection. This means that the fall in oil prices, and with them the stock indices, may resume.
The S&P 500 could not overcome the resistance levels of 2800.0 (EMA50 on the daily chart), 2790.0 (Fibonacci level 38.2% of the downward correction to the increase since February 2016 and from the level 1807.0), and during today's Asian session, the S&P 500 futures fell sharply, largely leveling the growth of the previous Friday.
A signal for sales may be a breakdown of support levels 2718.0 (ЕМА200 on the 4-hour chart), 2690.0 (ЕМА200 on the weekly chart). Short positions are preferred. Only growth into the zone above the resistance level of 3020.0 (Fibonacci level 23.6%) will indicate the restoration of the long-term bullish trend of the S&P 500.
Support Levels: 2718.0, 2690.0, 2643.0, 2600.0, 2500.0, 2415.0, 2319.0, 2240.0, 2180.0, 2020.0, 1900.0, 1807.0
Resistance Levels: 2790.0, 2800.0, 2875.0, 2962.0, 3000.0, 3020.0
Trading Recommendations
Sell ​​Stop 2685.0. Stop-Loss 2825.0. Objectives 2643.0, 2600.0, 2500.0, 2415.0, 2319.0, 2240.0, 2180.0, 2020.0, 1900.0, 1807.0
Buy Stop 2825.0. Stop-Loss 2685.0. Objectives 2875.0, 2962.0, 3000.0, 3020.0, 2940.0, 3000.0, 3020.0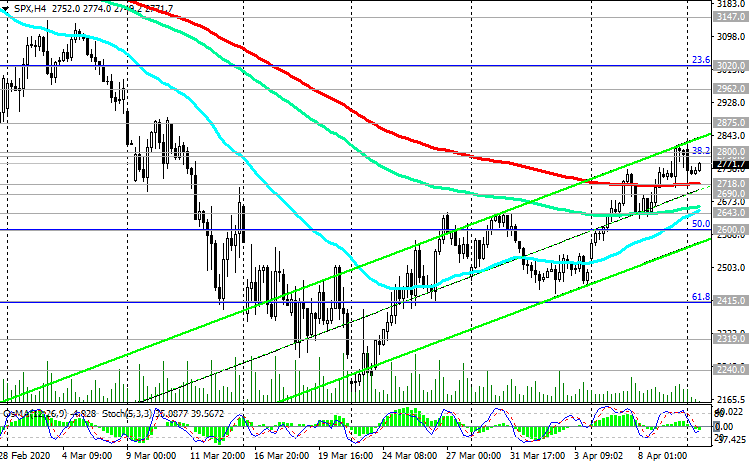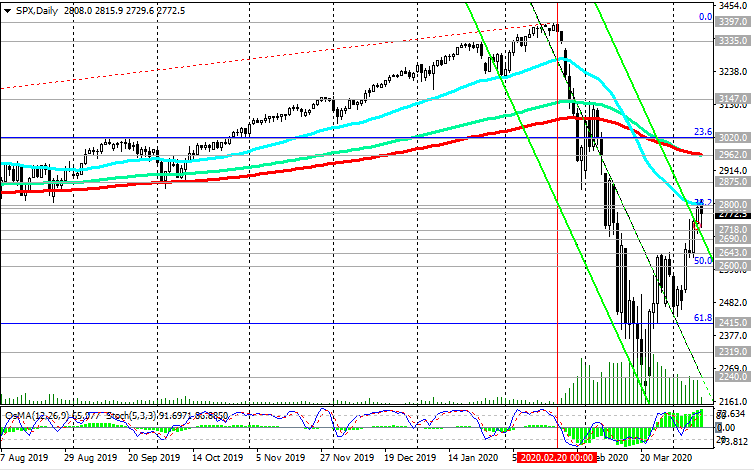 *) For up-to-date and detailed analytics and news on the forex market visit Tifia Forex Broker website tifia.com