EUR/USD: negative dynamics prevail
09/16/2019
EUR / USD continues to decline in the long-term bearish trend, trading in downward channels on the daily and weekly charts.
At the beginning of this month, EUR / USD tested the support level near the level of 1.0960, however, subsequently rose to the resistance level of 1.1115 (the upper border of the downward channel and ЕМА50 on the daily chart).
At the moment, EUR / USD is falling, remaining under pressure from the ECB's decision on monetary policy last Thursday. As you know, the ECB resumed the program of quantitative easing and lowered the key interest rate on deposits by 0.1%, to -0.5%.
Now financial market participants are turning their attention to the Fed meeting next week. As expected, the Fed will reduce the rate by 0.25% to 2.00%, which will not have a significant impact on the dynamics of the dollar. The dollar may weaken sharply if the Fed leaders announce plans to further mitigate monetary policy by the end of the year.
The Fed meeting will be held September 17 - 18. Probably, up to this point, the EUR / USD pair will also remain under pressure. In the context of trade wars, the dollar remains a protective asset.
Currently, EUR / USD is trading below the key resistance levels of 1.1210 (ЕМА144 on the daily chart), 1.1260 (ЕМА200 on the daily chart), 1.1285 (Fibonacci level 23.6% of the correction to the fall from the level of 1.3900, which began in May 2014) .
Short positions are recommended below these resistance levels.
The breakdown of the short-term support level of 1.1045 (ЕМА200 on the 1-hour chart) will be a signal for resuming sales of EUR / USD with targets near the levels of 1.0900, 1.0850.
Support Levels: 1.1045, 1.1000, 1.0960, 1.0940, 1.0900, 1.0850
Resistance Levels: 1.1087, 1.1115, 1.1210, 1.1260, 1.1285
Trading Recommendations
Sell ​​Stop 1.1040. Stop-Loss 1.1090. Take-Profit 1.1000, 1.0960, 1.0940, 1.0900, 1.0850
Buy Stop 1.1090. Stop-Loss 1.1040. Take-Profit 1.1115, 1.1210, 1.1260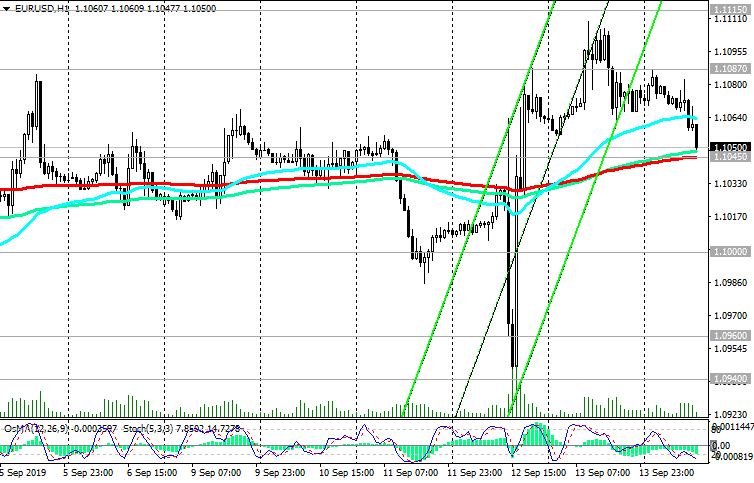 *) For up-to-date and detailed analytics and news on the forex market visit Tifia Forex Broker website tifia.com