EUR/USD: the Fed took a wait and see position
11/21/2019
The minutes published on Wednesday from the Fed meeting in October confirmed the central bank's leadership's attitude to take a wait-and-see attitude to determine if the economy will need additional stimulus in the coming months.
"Most participants decided that monetary policy after lowering rates by a quarter percentage point at this meeting will be precisely tuned to maintain prospects for moderate economic growth, a strong labor market", the minutes said.
The probability of the next one reduction in rates by the middle of next year, according to the CME Group, is about 50%.
However, the dollar is falling on Thursday. At the start of today's European session, the DXY dollar index futures are trading near 97.70, 6 pips below today's open price and 13 pips below open price earlier this week.
Now, participants in the financial market will follow the publication (at 12:30 GMT) of the minutes from the ECB meeting in October. If the protocols contain unexpected statements or new information regarding the prospects of monetary policy, this could lead to a surge in volatility in trading on the euro and on the European stock market.
In October, the ECB did not change its monetary policy and announced no new measures. At the same time, among the Governing Council of the ECB, voices of opponents of the current incentive policy are increasingly heard.
The next meeting of the ECB on monetary policy will be held on December 12, and any changes in the mood of the ECB leaders and their opinion on the current monetary policy of the central bank may lead to increased volatility in the financial markets, especially for the euro and EUR / USD.
Currently, EUR / USD is developing an upward trend, trading above short-term support levels of 1.1065 (ЕМА200 on the 4-hour chart, ЕМА50 on the daily chart), 1.1060 (ЕМА200 on the 1-hour chart).
Nevertheless, EUR / USD growth is above key resistance levels of 1.1130 (ЕМА144 on the daily chart), 1.1175 (ЕМА200 on the daily chart) is unlikely.
In general, the long-term bearish trend of EUR / USD remains. The breakdown of the support level of 1.1060 will be a signal for the resumption of sales of EUR / USD.
Support Levels: 1.1065, 1.1060, 1.0995, 1.0940, 1.0900
Resistance Levels: 1.1110, 1.1130, 1.1175
Trading Recommendations
Sell ​​Stop 1.1050. Stop-Loss 1.1110. Take-Profit 1.1000, 1.0940, 1.0900, 1.0850
Buy Stop 1.1095. Stop-Loss 1.1050. Take-Profit 1.1110, 1.1130, 1.1175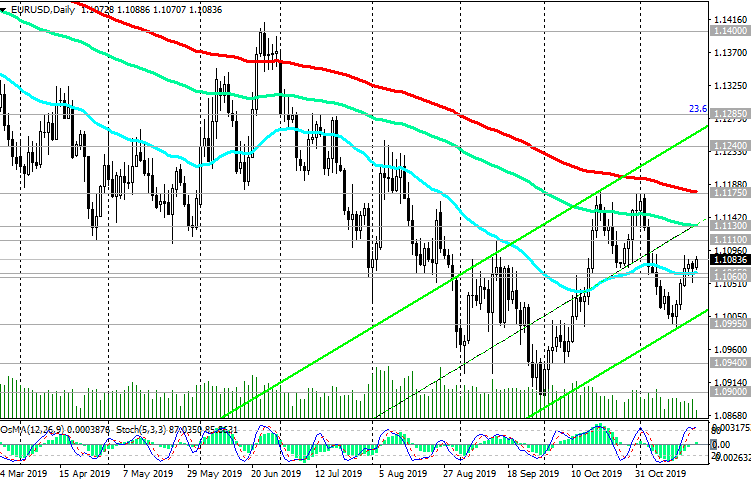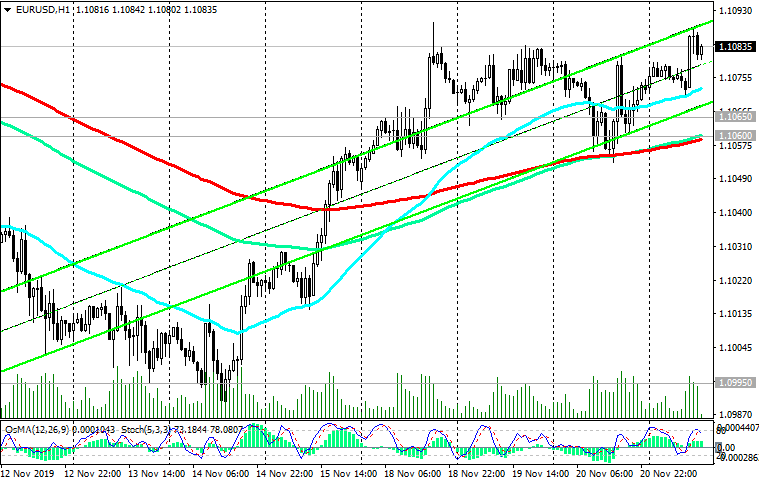 *) For up-to-date and detailed analytics and news on the forex market visit Tifia Forex Broker website tifia.com