Hey folks,
I started with Forex in September, and you can expect to see some more posts from me in the future.
About me:
I'm a 26 year old Canadian living in Asia. I own a digital marketing company and I play poker competitively. So far there are a ton of parallels from poker success to forex success so that has made the learning curve easier. I've always had a steady stream of income and I've made the mistake of letting my money sit liquid for too long. I'll be using forex as a another stream of revenue.
You can find more on my personal story at Boostly.xyz.
So far:
I've been doing a lot of experimenting to find what style suits me. Thus far, I prefer trading gold, silver and the sp500. My aim is 3-5% per month and thus far luck has been on my side.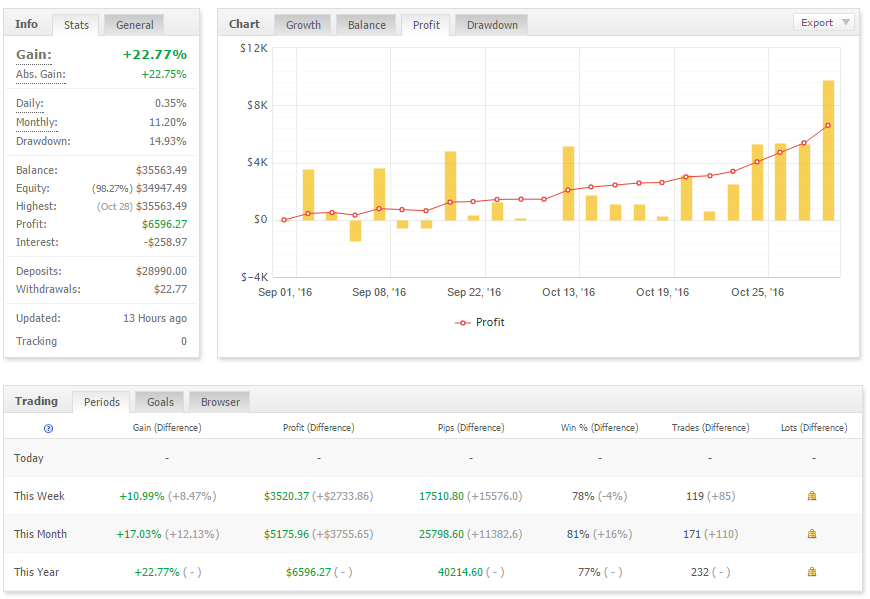 September -
+4.9%
(all from Goldstar)
October - +
17.03%
(first month of manual trading in combination with Goldstar)
What's to come?:
I see a lot of opportunities in the forex industry so I will be developing more forex content. I'll go over things like my own strategies, what signals I use, mistakes I've made, and things I learn along the way. The content will be mostly tailored to forex beginners and newcomers as I don't have much to offer the experts.