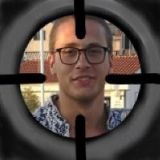 ForexBroRimsi
140 days ago
Intraday trade on GBPUSD, 15min chart, range-trading with a RRR: 1:3 ... EASY PROFIT!
Hi There Lovely traders. =) Max Norbury has really opened my interest for trading stuff that actually looks very boring. The GBPUSD for example, on the 15min timefram, looks like it just goes back and fourth. No trend atm. As I professional trader, I am going to take advantage of this, this is like Max always is saying "FREE MONEY". Honestly its very easy to trade this and make profits if done correctly. How to trade this range with profit (please view my picture while reading) 1. Set the range limits. I put two "Entry lines" in GREEN colour where price hits several times. So the UPPER GREEN LINE is a line where I will SELL. And the other GREEN LINE is the level where I will do a BUY trade. 2. My TAKE PROFIT LINES are just before My new entries. This is because I want to close my trade before I open a position the other direction! 3. My STOP LOSS is placed where price hasnt touched yet during its ranging period. 4. My analysis is that I now can have a RRR 1:3 on both BUY and SELL trades. Which means that I make approx. 60usd on one direction, and my loss could only be around 20 usd. This is with Blueberry Markets using 1:100 Leverage and my position size is 0.05 lot, which is fine for smaller accounts. 5. The beautiful thing is that you can set orders in advance and earn while doing something else. That is why I call it "EASY MONEY". But please be familiar with the different pending ordering alternatives before you do this. You have to get that part straight 😃 6. Repetition of the four pending order types (view my picture) - BUY STOP // if price is below the "LOWER GREEN ENTRY LINE" and you believe price will continue up to the "UPPER BLUE TP LINE". - BUY LIMIT // if price is above the "LOWER GREEN ENTRY LINE" and you believe price will go down to the "LOWER GREEN ENTRY LINE" and reverse in the range and continue up to the "UPPER BLUE TP LINE". - SELL STOP // if price is above the "UPPER GREEN ENTRY LINE" and you believe price will pass through it and move down to the "LOWER BLUE TP LINE". - SELL LIMIT// if price is below the "UPPER GREEN ENTRY LINE" and you believe price continue down to the "LOWER GREEN ENTRY LINE" and then reverse to go up and hit the "UPPER BLUE TP LINE". ** Good Luck traders! Remember that Consistency is a big KEY for your success as a trader! Thats why you have to take trades like this, to do profit even when it looks like nothing else is happening on the market! Count how many time the price has gone back and fourth, its easy math, very profitable. WARNING: Please dont be one of those traders that assume that the range is 100% going to be like that back and fourth. We never know. That is why you need to use a SL for every single range trade. Please dont miss this part. There is no guarantee that it will continue ranging like this, but, the RRR looks good, and its definately a RISK worth to take as a trader. If price leaves the range and starts trending, please remember to take away all of your pending orders on this one. Good Luck, Have Fun!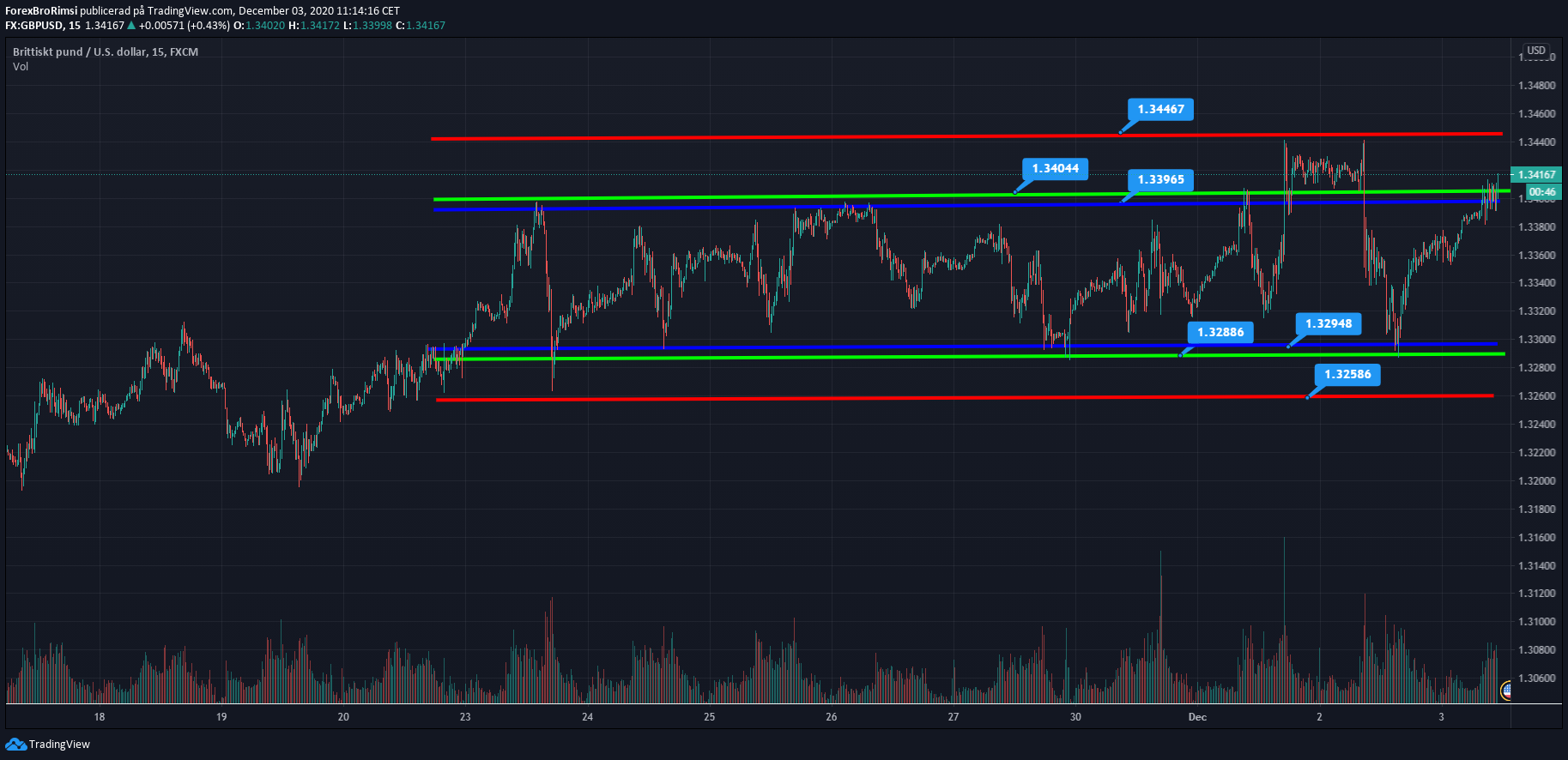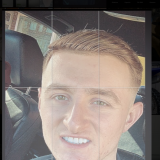 samuelchester1
3 hours ago
AUDNZD AGGRESSIVE ENTRY--
This is a trade idea I have just taken based on the anchor time frame retest!... First lets add up all of the confluences and weigh them against the reasons to not take the trade on the daily time frame we have a daily bullish trend we are currently trading in the last previous wave striked the upper limit we are now trading below the median zone and the lower limit has not being hit yet so immediately my bias is going to be short until that lower limit is hit!... second on the daily time frame we have just retest the 50 EMA and on the 4HR we have retested a big structural level of supply and demand! so again the retest is complete on both anchor time frames we have ALOT of resistance above price and all respected levels have been retested! now before the 4HR corrective wave we formed a nice low before bottoming out that is my target! moving down to the 5,15,1hr time frames we can see the 1hr starting to topple off 15 min and 5 min have closed below there 8 period moving averages stops above previous highs incorporating key resistance zones and tp at 4hr previous lows --- 15 min and 5 min sniper criteria all onside we have executed basically on top of the 5 min 50 period moving average! risk allocation for this foundation position is 0.25% based on around a 2:1 R:R now we are trading above the 1hr 50 and the 15 min 200 and 50 if we get to these areas on start reversing ive probably took about 10 pips from the trade idea because I will be done with it! .. however my bias is short so once / if the BCR happens of the 15 minute major moving averages I will then execute a second trade idea based on a 1:8 ish R:R and scale in the mask allocated risk now that we have the confirmed POLR! and I will bring stops to match the second positions trade idea! so worst case scenario we make money best case scenario we make more money! this is my approach to these charts from now on! I feel like I am being to hard on myself where as if 6 confluences add up I simply won't take the trade due to 1 not! any criticism is entirely welcome and if I have worded this whole thing wrong and its the wrong approach to take please tell me I love been corrected by people with more experience then me at the end of the day we are all here to learn! thank you for reading and happy trading!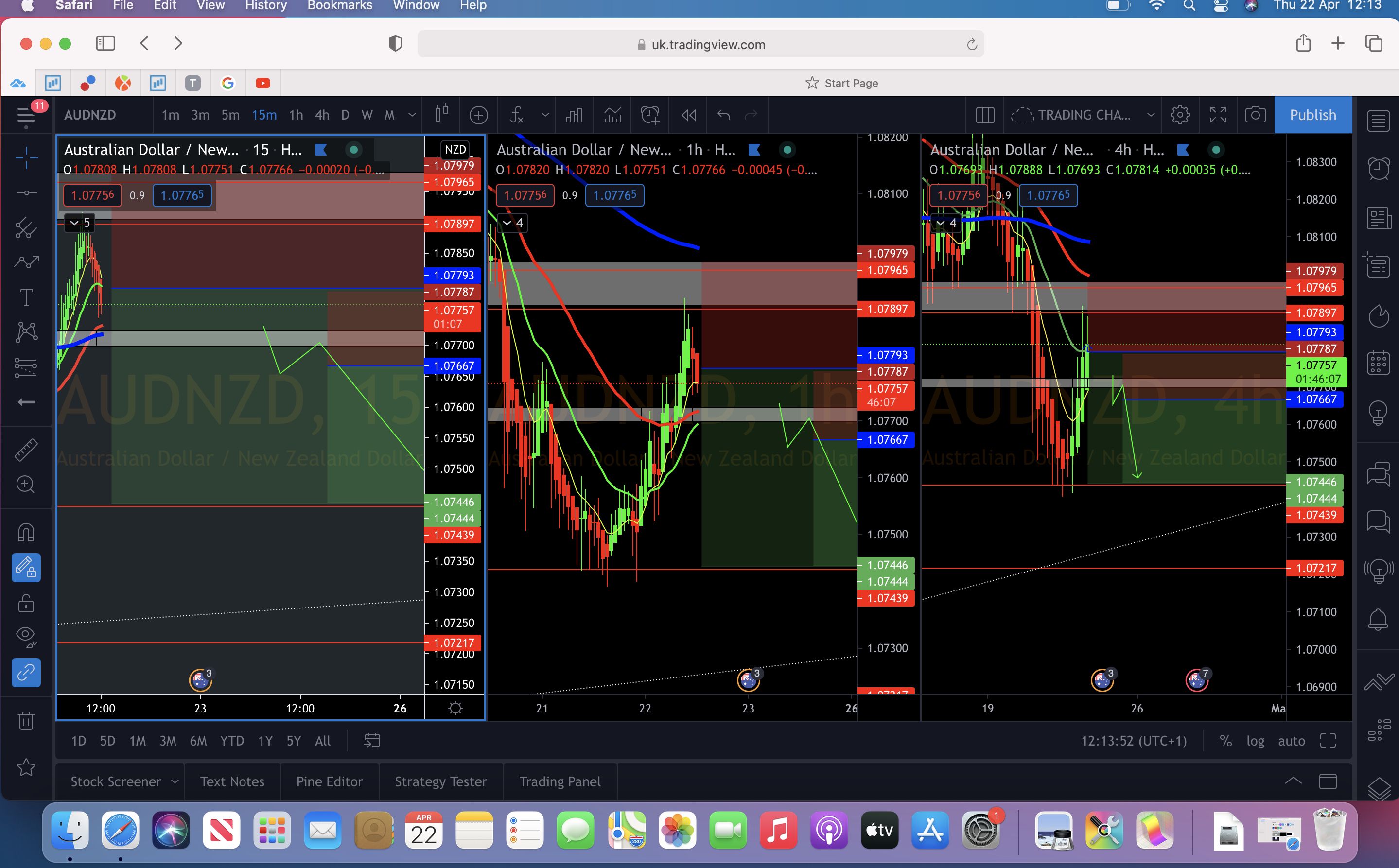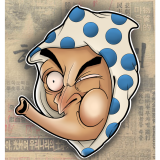 Lets take the Pound Higher
GBPUSD Firstly, lets take a look at the higher time frames to determine our bias. ----------- Daily - https://www.tradingview.com/x/lpFX09hR/ - A bullrun that has been respecting an upward channel for some time, price has rejected the lower limit and surpassed the 50ema, our two major road blocks. ----------- 4 Hour - 20th April we created a death cross, and creating our POLR north. ----------- 1 Hour - Price has been wandering around the 50ema for some time, as we all thought GU would close it's daily gap, to me, this looks like a time correction. What are we looking at? We are simply trading the Path Of Least Resistance here, taking the trade where it wants to go already. We have had multiple confluential factors to confirm a bias north. Criteria: - Wait for the 15m TF to BCR the supply and demand zone. Depending on volume, we may need 3 full 15m candles, if volume is too high, i may drop to 5 minutes for continuation confirmation. Stops and Targets: - TP is up at a previous high, just below for higher probability. I have also drawn a path how I think this will play out, as we have rejected the lower limit, i think price will eventually reach the uppper limit of the channel, we can scale in after a BCR of this daily resistance level if we want to take the trade further - SL is underneath the supply and demand zone and multiple low points, as well as the 1h 50ema and the 15m 50 and 200ema. RR: 2.12 Risk: 1%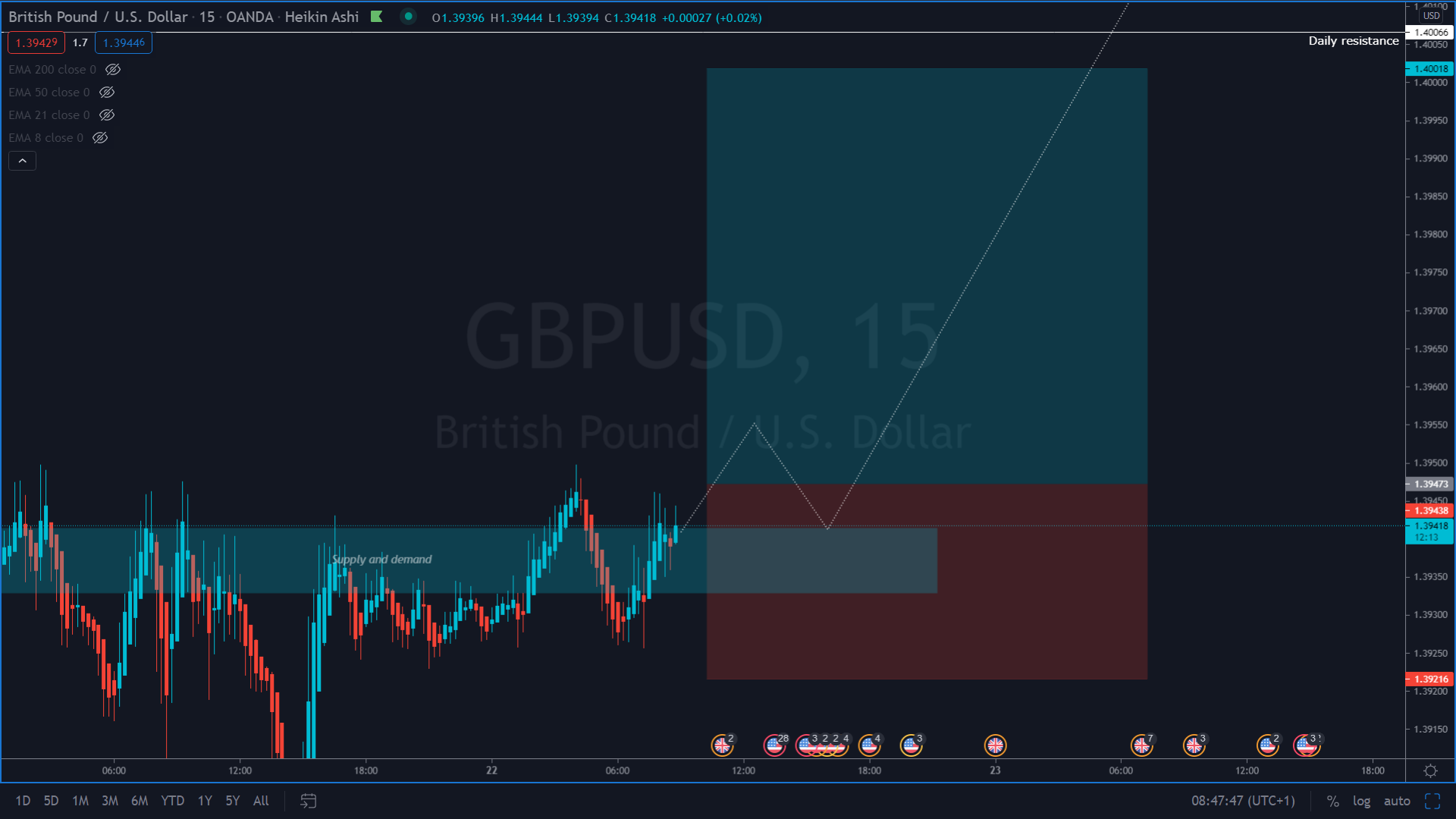 Intraday trade on GBPUSD, 15min chart, range-trading with a RRR: 1:3 ... EASY PROFIT!

AUDNZD AGGRESSIVE ENTRY--

Lets take the Pound Higher

GBPCHF on H4 Sell